EYMM Capsule Skirt blog tour
Have you ever found a pattern that is your dream because it is timeless, yet easy and interchangeable? The Capsule Skirt from EYMM is just that. The best part is that the girls sizes goes from NB to 18 plus a dolly size. The Women's sizes go from XS-5X. both are bargains at the huge size range, but even better if you get the bundle of both. If you buy them now, you can get the bundle for less than $10.50. This pattern has become my go to skirt because the skirt can be made in woven or knit with a comfy yoga waistband.
I made each of my girls one in some of my fun knits, and they loved them. The red polka dot was the last of my ITY I scored at the Loft in Downtown LA. The metallic checker print is from one of my favorite shops on etsy, Fabulace and the teal metallic was from Walmart in the bargain knit. So all these skirts cost me less than $10 to make, probably less than that.
Each skirt takes me about 30 minutes to finish if I leave the hem raw like I did on these fabrics. If I have to hem, then it takes 45 min to 1 hour. It is seriously such a quick and fun sew.
If you are not familiar with EYMM, all her patterns have 2 lifesaving features: layer printing so you only print the sizes you need and trimless pages which means no cutting.
I haven't made myself one yet, but I plan to soon. It is the perfect pattern for a leatherette skater style skirt.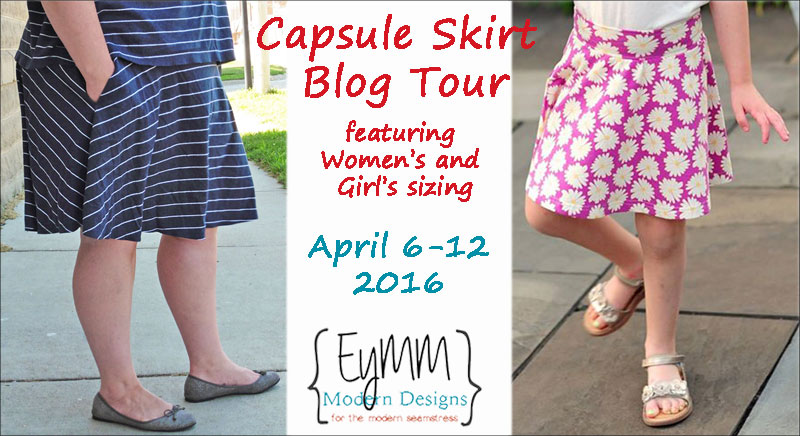 Make sure to check out all the other stops on the EYMM Capsule Skirt Tour. (Note: The links won't be live until the day they're scheduled, but feel free to click through and check out other blog posts any time.)
Wednesday, April 6
Connected by a Thread, Sugarplum Cuties, The Wholesome Mama
Thursday, April 7
Sew Far North, Lulu & Celeste, Pattern Revolution
Friday, April 8
SewSophieLynn, Welcome to our Crazy World, EYMM
Saturday, April 9
handcrafted by RED, Pretty and Precious, Capture, Craft, and Cook
Sunday, April 10
create3.5, Sewing the Seasons, HattieLu Handmade
Monday, April 11
Creative Counselor, Rebel & Malice, Blessed x 5
Don't forget to pick up your copy of the pattern while it's on sale!  Use coupon code PERFECTSKIRT to save 25% on the Women's Capsule Skirt, Girl's Capsule Skirt, or Capsule Skirt Bundle until April 12 at 11:59pm PST.
Thanks for stopping by and Stay rebellious!