EYMM Valentine's Essentials Tour
Oh February has been quite the month for me already. Lots of self love. Lots of body confidence. No more body shaming. Now today and the rest of this week is going to be a little harder to swallow thanks to the age old "wahhhh! My body isn't perfect!" and that is honestly the biggest load of bullshit ever. We need to love these bodies of ours, with all the bumps and flaws. My husband doesn't see me that way. My children don't.  Friends don't. Strangers generally don't even see me that way. Time to knock off that unhealthy mindset. With that being said, I present to you the present of me in lingerie-ish.
I used the Everyday Essentials pattern and used the top in stretch lace, lining the front cups in swim lining, then this is where my true Melissa aka rebel nature came in. I added a handkerchief skirt instead of the pattern skirt and left it open in the front ala babydoll style. It is more tunic length, just long enough to cover the bootay! I actually love how it turned out. And yes, of course I toyed with it being off shoulder. I tend to like spaghetti straps more anyways which means a remix is in the horizon.
I think all of us bloggers stepped out of our comfort zone in this, but I am glad I did. I saw myself as confident and strong. That exudes more into everything I do and I am definitely going to learn from this experience.
Don't forget to check out the rest of the talent on the tour. I am so proud of these ladies.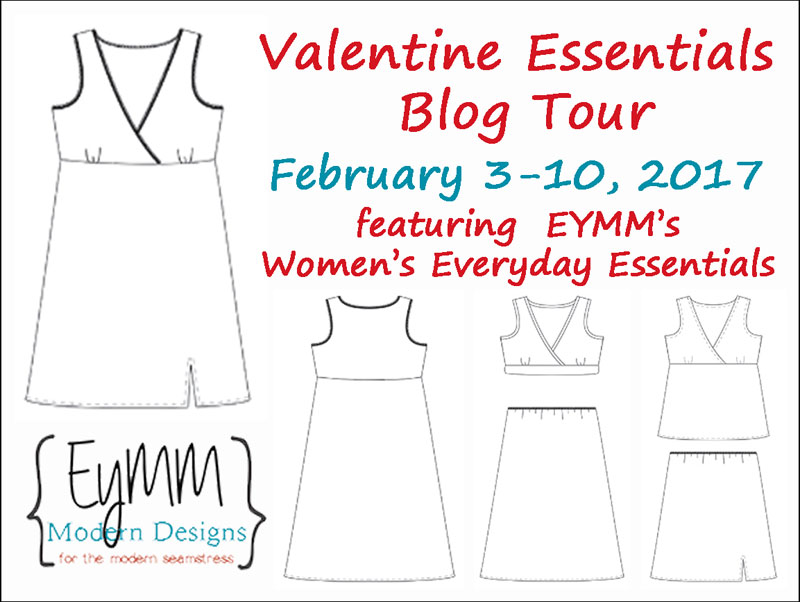 Make sure to visit all the stops on the Valentine Essentials Blog Tour! (Keep in mind that the links below won't work until their scheduled date.)
Feb. 3 – Sewing by Ti
Feb. 4 – Joelle at EYMM
Feb. 5 – Embrace Everyday
Feb. 6 – Sprouting JubeJube and Capture, Craft, and Cook
Feb. 7 – Call Ajaire and Blessed x Five
Feb. 8 – Rebel & Malice and Sew Haute Blog
Feb. 9 – Kelly's Sewing Creations and Sew Far North
Feb. 10 – Roundup at EYMM
During the tour, the Everyday Essentials pattern is on sale for half off! Use code VDAYTOUR on the EYMM site to save 50% on the Women's Everyday Essentials pattern until February 12 at 11:59pm PST.
*This post contains affiliate links which means I can earn a small percentage from your purchase if you use my link. Don't worry, it is free to you and helps me actually buy fabric.*
Now, today also kicks off week 2 of Self Love Sewing Challenge which means new link party & new giveaway. Your makes from January 29, 2017 and after qualify. However, it must be a new link so if you added to week 1, that make isn't eligible for this week. No duplicate entries please 🙂 Also, week 2s prize is: the Lucky Bra & Underwear pattern from Rad patterns because this week, I am focusing on the chonies. Yay!
Thanks for stopping by and stay rebellious!!