Happy Mother's day to all those beautiful moms out there. I hope your heart if full with joy today and that your little heathens allow you to relax and breathe, because let's be real: YOU DESERVE IT!
This post contains affiliate links which means I earn a small percentage if you purchase through my link, which helps me to keep sharing content with you.
To celebrate mother's day, EYMM is having a mommy and me tour. I decided to make the California top for my middle girl and I. When I started looking at the pattern pieces, I saw an opportunity to work with woven fabric. So I used a georgette to make a swingy tank for my little one by sizing up 1 size and leaving off the waist elastic. I used the scoop neck for the front and the back. It turned out to be a perfect summery tank. You can accomplish this by sizing up, then creating a lining cut where you want it to stop (mine was a crop length) and using the burrito method to have a fully lined woven tank.
I used georgette for myself also. I sized up once again. Then I left mine to be sheer, and used bias tape for my neck and arms. I also created bust darts. Then I added the elastic since swingy is not my jam. I love how it turned out and my mini was so excited to share a top and blog post with me.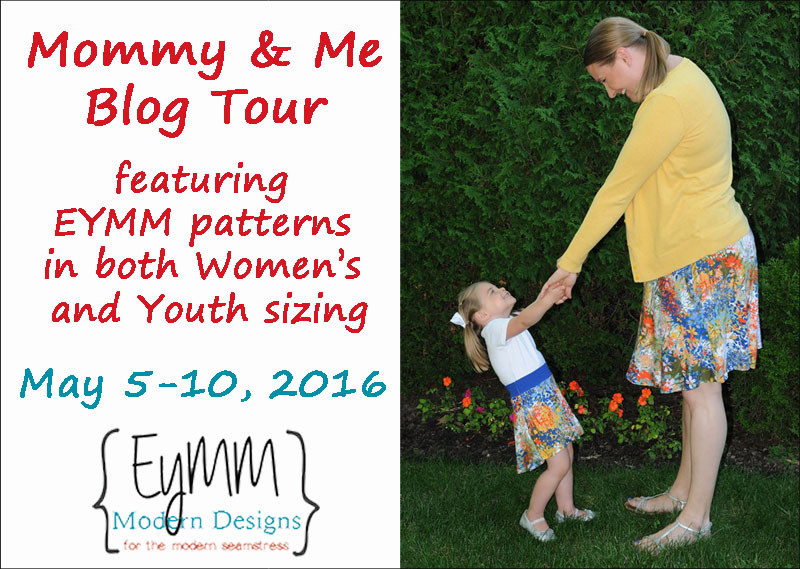 Make sure to check out all the stops on the EYMM Mommy & Me Blog Tour! (Note: the direct links below won't work until their scheduled day, but feel free to click through and check out their blogs any time!)
May 6
The Wholesome Mama, Wally and Grace, Call Ajaire
May 7
Rebel & Malice, Blessed x Five, Coral + co.
May 8
Welcome to Our World, Analog Bytes, Pear Berry Lane
May 9
Sewing by Ti, Pretty and Precious, Creative Counselor
During the tour, all Mommy & Me Bundles are on sale! Use coupon code MOMMYANDME2016 on the EYMM site to save 25% on any Women and Youth Size Pattern Bundles until May 10 at 11:59pm PST (note: build your own bundles are excluded from this sale).
Thanks for stopping by and stay rebellious!